Flourish News
Find out about the latest fact sheets, comments on topical issues, health alerts or just some fun entries .
13 May 2014
Helmet therapy or not for deformational plagiocephaly?
A randomised controlled trial from the Netherlands recently published in the BMJ, shows no difference in outcome between helmet therapy and the natural course. Infants were all born after 36 weeks and did not have torticollis or craniosynostosis.
7 May 2014
Sacral Dimples are common, which babies need imaging?
An excellent review of clinical features that are associated with a benign dimple and those that are indications for further tests such as ultrasound and MRI can be found on our Health Bank page.
Find out more
8 April 2014
Thanks to our lovely friendly florist, Jess from Ivy and Eve across the road for supplying us with happy flowers every week. The easter daisies are gorgeous.
7 April 2014
The Kids Nook furniture
We are often asked where we found our little table and stools.
Kids love them and they are so easy to clean after little sticky fingers have been at work.
We got them from In your room
4 April 2014
The most popular baby names in Victoria
The top 100 names for the year 2013 with Charlotte, Ava, and Olivia the most popular choices for girls, and William, Jack and Oliver topping the list for the boys.
See the rankings from Births Deaths and Marriages register
Did you know you could do a popular name search for each year?
The Registry of Births, Deaths and Marriages' popular names search can be found on www.bdm.vic.gov.au.
Top 20 Names of 2013 Registered in Victoria
GIRLS: 1. Charlotte; 2. Ava; 3. Olivia; 4. Mia; 5. Emily; 6. Sophie; 7. Isabella; 8. Chloe; 9. Ruby; 10. Amelia; 11. Grace; 12. Ella; 13. Zoe; 14. Matilda; 15. Sienna; 16. Lily; 17. Isla; 18. Emma; 19. Zara; 20. Lucy.
BOYS: 1. William; 2. Jack; 3. Oliver; 4. Ethan; 5. Thomas; 6. James; 7. Noah; 8. Joshua; 9. Lucas; 10. Mason; 11. Lachlan; 12. Xavier; 13. Liam; 14. Alexander; 15. Max; 16. Samuel; 17. Benjamin; 18. Cooper; 19. Henry; 20. Oscar.
3 April 2014
Probiotics do not help infants with colic
Some of our patients have been involved in a local study looking at the effects of probiotics on "colic" from the Royal Children's Hospital. The long awaited results are finally in.
Unfortunately treatment of infants with Lactobacillus reuteri DSM 17938 did not improve symptoms of colic in a recent study. These results contrast with the results of previous smaller trials and do not support a general recommendation of probiotics for the treatment of colic in infants.
14 March 2014
This book is an easy read and a great starting point with great tips and a common sense appraoch on how to deal with over weight children and teens. Written by Dr Matt Sabin from Royal Childrens Hospital Melbourne, Obesity clinic.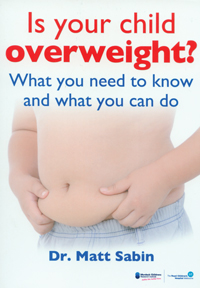 Read a summary from the Victorian Obesity Consortium:
6 March 2014
Roseola or commonly known as baby measles
We have seen and heard there are a few cases of Roseola in the community at present. In most children it is a mild illness, but in a small number it can be associated with marked fever for 2 to 3 days that eventually settles once the florid rash occurs. Supportive treatment with plenty of fluids and managment of fever is all that is required.
Find out more on our Health Bank page
4 March 2014
Vitamin D supplementation in newborns
During pregnancy babies receive and store vitamin D from their mother. After birth the vitamin D level falls and some babies are more at risk for low Vitamin D levels and supplements may be recommended to prevent deficiency
Find out more from our helpful fact sheet
Vitamin D supplementation for babies
Ostevit D drops easy to give, butterscotch flavour, 2 drops daily is all your baby needs.
3 March 2014
Vacinne fridge up and running
We have been a bit quiet lately, thats because we have been working hard on some new services for our clients. The vaccine fridge is now up and running with all the protocols in place to make sure that the vaccines are correctly stored and safe for use. We can now offer opportunistic immunisations i.e. those that are due or need catch up at your clinic appoinments.
4 February 2014
Whether it is a problem with day time or bed wetting, constipation, soiling or toilet refusal we have the experience and expertise to help. Children's continence is one of Dr Liz's special interests having founded the Childrens Continence clinic in her home town Hobart.
Check out the services we offer including bell and pad alarms for bed wetting.
With a success rate of 80%, we have plenty of alarms available for loan and there is no hire charge, it's included in the price of consultation
30 January 2014
Recent research from Swansea University in South West Wales shows that: Responsive feeding, which means allowing the child to regulate their own appetite and not pressurising them to eat more than they need, is a really important step in encouraging children to develop healthy eating patterns for life.
Interesting reading
Should we spoonfeed babies? New study sheds light on childhood obesity
Read the original research article
27 December 2013
Speech development is a combination of nature and nurture and its a milestone that all parents look forward to. There is lots of information available about fun things you can do to help encourage your child to attain speech and language. Speech development occurs critically in the pre school years so its never too late to start. Talk to and listen together as much as you can with your baby.
Check out our latest health bank page
11 December 2013
Immunisation has been ranked second only to clean water in terms of its impact on world health, but there is still much debate about vaccination. Do you want to know more about this important preventative health measure? Follow our links to access current and accurate information and answer all your concerns to help you feel confident this is the right step for your child.
Find out more from our Health Bank > A-Z Paediatric problems> I > Immunisations
10 December 2013
Remember setting the table and the washing up roster: well it was good for us after all.
Our pick of the November issue of JPCH
Family meals may provide a unique opportunity for building stronger families and young people. Creating environments where frequent family meals are normative, valued and feasible for families may result in benefits for young people that extend beyond good nutrition.
Family meals and well-being of adolescents
Issue
Journal of Paediatrics and Child Health
Volume 49, Issue 11, pages 906–911, November 2013
5 December 2013
The Milk Ladder is a graduated guide to progressively introduce cow's milk proteins in children with cow milk allergy/ intolerance when it is deemed safe to do so. It starts with well baked cow's milk products then foods are introduced with a gradual increase in the amount and type of cow's milk protein and a decrease in heating or denaturing process.
Find out more Allergy: Food-Cow's milk allergy/ The cow's milk ladder
4 December 2013
Most children are afraid of the dark. Some fear monsters under the bed. But 10 percent of children have excessive fears and worries-phobias, separation anxiety, panic attacks, social anxiety, or obsessive-compulsive disorder-that can hold them back and keep them from fully enjoying childhood. If your child suffers from any of these forms of anxiety, the program in this book offers practical, scientifically proven tools that can help.
Written by a group of experienced Australian child psychologists, its a light bulb moment for any parent who has an anxious child.
18 November 2013
The warmer weather is here, leaving children in cars even for a few minutes can be hazardous.
Many of us are unaware how it is a matter of a few minutes before the inside of a car reaches dangerously high temperatures even with the window left slightly open. On a typical Australian summer day, the temperature inside a parked car can be as much as 30-40 degrees hottter than the outside temperature. During summer its time to rethink your next errand.
13 November 2013
HEALTH ALERT
Don't spoil your holiday, make sure you and your family are safe from the recent measles outbreak in Bali
The Age: Victorian measles outbreak linked to holidays in Bali
Find out more from our health bank page: A-Z Paediatric problems> Infectious diseases> Measles
12 November 2013
Health Bank Updates
Thought it was all over? There was a long and exhausting list of foods to avoid in pregnancy, now here are some common sense guidelines for baby in the first year.
More from our updated Health Bank: Solids in the first year
Foods to avoid in the under ones
26 October 2013
Yum, a great resource for childen with allergies
Dr Liz attended the paediatric Allergy update at the Childrens Hospital at Westmead recently and picked up a great new book Yum: top tips for feeeding babies and kids with allergies. It is written by Barbara Dennison, a paediatric dietitian with years of experience in the Allergy clinic.
Go to www.allergy.org.au to get a copy
16 February 2012
Photos of the completed works at 438 Clarendon St, South Melbourne.
FlourishPaediatrics is delighted with the photographic record of the completed works by Molecule
Go to Molecule blog for more photos by Shannon Mc Grath
See more click here Molecule blog spot
1 February 2012
In The Age newspaper, Stephen Craft discusses the thinking and design concepts behind the creation of our clinic
Doctor's clinics, particularily those designed for children tend to be formulaic. .....Flourish paediatrics has taken a different approach...read more
20 January 2012
Artwork by David Keeling Cul de sac from the Garage sale series of three in Closer to home exhibition November 2005
True to Dr Liz Hallam's roots a little piece of Tasmania enjoys pride of place in the waiting area, playful yet sympathetic to the elegant surrounds. Painted by prominent Tasmanian artist David Keeling who has won recognition for his landscapes.
Find out more about the artist David Keeling
14 June 2011
After many months of planning, Flourish Paediatrics at 438 Clarendon St, South Melbourne opened it doors on 14 June, 2011.
Heart felt thanks to the amazingly creative team who were on the journey with us and transformed a vision into reality,
and the beautiful Flourish children.
20 March 2011
Sleeping twins together or not? A recent survey performed in the maternity units around Victoria demonstrated wide variation in sleeping practices of multiples. What does the research show and what are the current recommendations?
Research has not been able to provide conclusive evidence to answer this question and in view of safety concerns is probably unlikely to in the future. The Maternity and Newborn Clinical Network of Victoria has advised that in the absence of evidence based research that the safest way to sleep twins on the postnatal ward and at home is in their own cots and to follow the SIDS and Kids Guidelines (2010). Parents should also be actively educated in safe sleeping practices whilst in the postnatal ward.
Premature infants and low birth weight infants are at higher risk of SUD (Sudden Unexpected Death) and safe sleeping practices modelled in hospital will ensure that these practices are continued at home.
Many twins we talk to complain about not being respected or treated as individuals and it is reasonable that they should have their own bed and space even as a newborn infant just like any other baby.
Read more
Maternity and Newborn Clinical Network News November: 2010
SIDS and KIDS Statement: Co bedding twins in Neonatal Intensive Care Units and at Home
25 Feburary 2011
Latest Rotavirus Information: The Chief Medical Officer Dr Jim Bishop has issued advice that there is new evidence from Australia and overseas regarding the rotavirus vaccines used in Australia, Rotarix® and RotaTeq®, and a small risk of increased intussusception, a bowel condition that occurs in infants.
The Australian Technical Advisory Group on Immunisation and the Therapeutic Goods Administration have reviewed the evidence and recommend that both vaccines continue to be in Australia.The risk appears to be greatest in the first 1-7 days after receiving the first dose of rotavirus vaccine. Intussusception is a condition where the bowel slides into the next portion and results in blockage of the bowel.The Immunise Australia program has produced a series of information leaflets for parents and health professionals which is available on their website.
Information Rotavirus Immunisation- for Parents and Guardians
Rotavirus and intussusception: Information for parents Feb 2011
Information from the Chief Medical Officer on rotavirus immunisation and intussusception